I was stunned when I posted "Go Madonna!" on my Facebook wall — and several people trashed the Material Girl's halftime performance at the Super Bowl.
We're all entitled an opinion, but some people go out of their way to be negative. Nobody is good enough, no effort is worthy.
Fortunately, these posts were the minority.
Of the 200+ "likes" and dozens of comments, the kudos were overwhelming.
The 53 year-old superstar is in the best shape of her life — and strutted her stuff confidently in front of 111.3 million people. Madonna is proof that you don't have to be a kid to rock the house. Why knock her?
Naysayers surprise — and worry — me because the cost of negativity is greater than one may think.
Harvard psychologist Shawn Achor says we're taught that hard work equals success and that success equals happiness. The problem with that formula? Once we achieve success, "the goal post for success just changes." We simply set a higher goal, something even greater that we must achieve, thus happiness is always just out of reach. Watch the video below. (Come on, take 12 minutes to watch it. You'll be glad you did.)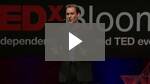 We all do it.
"I'll be happy when I find a husband." "When I lose 10 pounds" "When I land that dream job."
Achor argues that to be successful, try using the "Happiness Advantage," the idea that our brain performs "significantly better when we're thinking positively than at negative or neutral." He says we are "31% more successful when we're happy." That's a game changer.
Join us on a 21 day challenge to hit the Happiness Advantage. Each day for 21 days, we'll share here three things that we're grateful for.
Just 21 days to experience the change happiness can bring. If you're ready, read on. Click here to see each day and add yours.
Let's do it together.